Plush, Cozy Carpet For Any Space
Carpet Flooring in Ephrata, PA
Nothing compares to the soft feeling underfoot when you have a new, plush carpet. Cloister's Flooring America makes finding your new carpet flooring both easy and affordable. Whether you are looking for carpet in your bedroom, living room, or any other room in your home or business, you'll find your perfect flooring at our showroom in Ephrata, PA. Stop by today to upgrade your fading or outdated carpet with one of our top-of-the-line carpet flooring options. You can visit our local showroom or begin browsing online to start checking out endless design possibilities today.
Our associates are here to help you select your new carpet flooring and answer any questions that you have every step of the way. We are here to ensure you get the exact style that you want and one that will suit your needs. We'll sit down with you and go over our expansive catalog and learn about your design dreams for new flooring. From there, we'll help you narrow down your search to find the perfect fit. We take into account everything from your style to the current decor of your home and find the right match for you.
Carpet Selection from Top-Quality Brands
We are confident in our carpet flooring options and we believe that any new carpet you purchase should withstand the test of time. This belief is why we carry the best brands on the market, ensuring you have long-lasting quality carpet that is also beautiful. We even carry waterproof carpets for added protection and longevity. The brands we carry are high-quality and are well known for a reason. Their quality is superb. We are proud to carry the following exclusive brands and more:
Design Distinctions

Hearth & Home

Innovia

Innovia Touch

Mohawk

Resista

Spotlight Values

Tigressa

Tigressa H2O
Our Diverse Carpet Selection
There are so many benefits of carpet, including its comfort and appeal. There are unique designs and color options available for you to choose from, making it an incredibly adaptable flooring choice. Understanding the different types of carpeting available is an important part of your decision-making process. Learn more about our carpeting options:
Berber
Berber carpets offer a unique style that will make a statement in your home. This type of carpet is soft to the touch and cushiony underfoot. Berber can be found in a variety of pile heights and it can also be constructed as a multi-level loop or level-loop carpet. The natural strength and ability to hide soil in high-traffic areas make Berber carpets make it one of the most popular and versatile carpeting items on the market today.
Frieze
Look no further than Frieze carpets if you are in search of a type of carpet that is soft and plush. Frieze carpets are recognized for being silky smooth to the touch and for being resilient against stains and dirt. With its knotted appearance, this type of carpeting can bring a great texture into your space.
Loop & Cut-Loop
Loop carpeting is made out of uncut looped fibers. It offers a level surface that is typically woven or tufted. Cut-loop carpeting is made of fibers that are straight and that have been cut. This design gives cut-loop carpeting a snag-free consistency that is great for homes with pets and children. Both of these styles will bring a warm and homey atmosphere to your space and can easily hide imprints.
Pattern
Patterned carpets are great if you're looking to make a bold statement in your home. Patterns on carpets are created using a process similar to printing paper, such as flatbed screen printing and rotary screen printing. If you're looking to add a unique pattern to your room, this is a great option for you.
Saxony
This luxurious carpeting is known for being resistant to shading, wear, and traffic marks in your home. Saxony carpets are cut-pile carpets that are sure to make your home look opulent.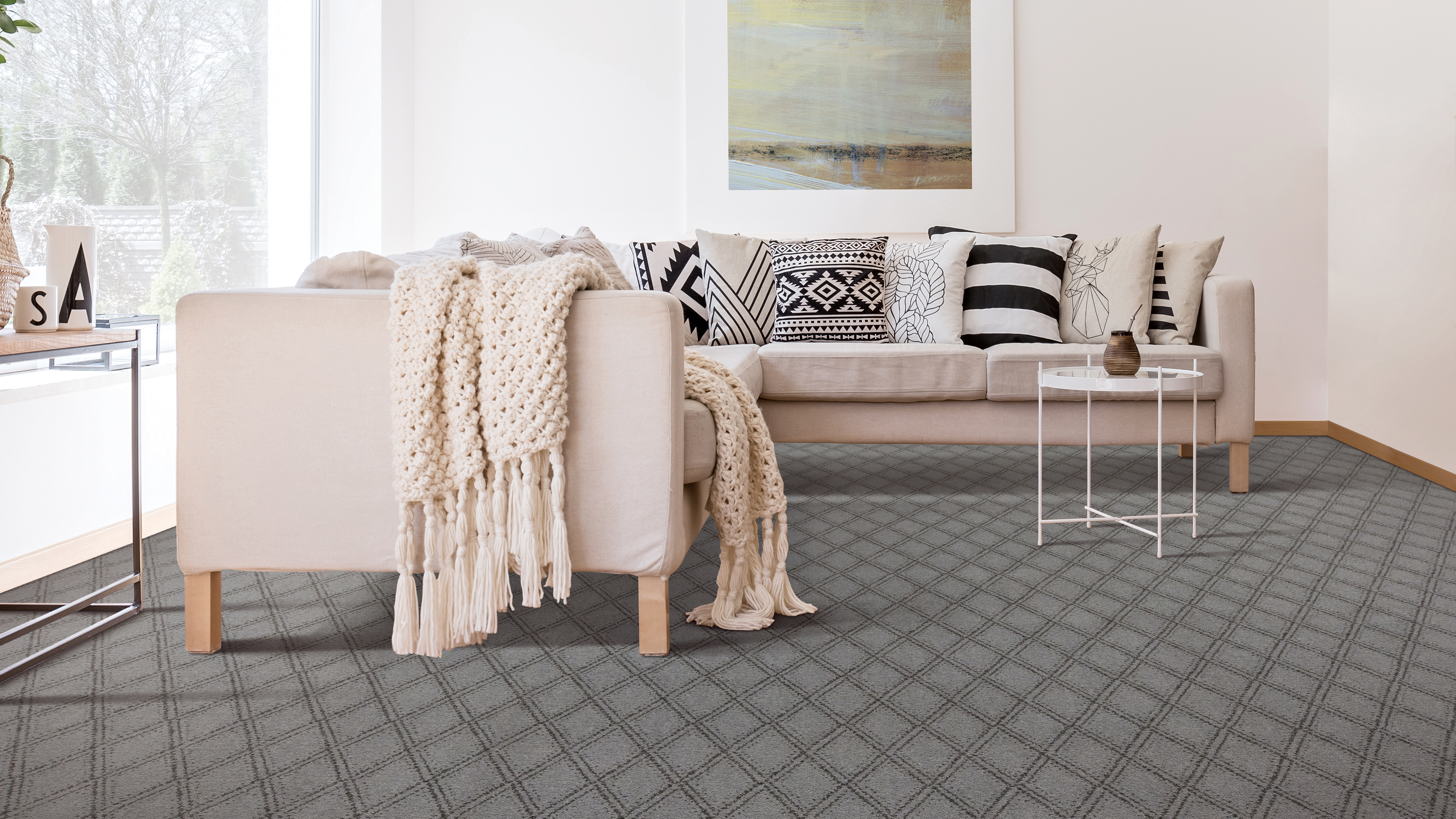 Low-Maintenance Cleaning
One of the many reasons why our carpets are so loved is because of how easy they are to clean and keep looking brand-new, even for years to come. We advise that our customers vacuum their carpets at least once per week and schedule professional cleanings once per year to eliminate any stains that may have developed. We know that messes are unavoidable in any home, so accidental spills can be cleaned up easily with just a moist cloth and soap or a light carpet cleaning solution. Before buying any cleaning products, though, be sure to double-check your guarantee since some products can be harmful to your new carpet flooring. If you are unsure which product is best to use for your carpet, feel free to ask our experts! We are more than happy to recommend products.
Carpet Installation Done Right
There is nothing worse than investing in a beautiful carpet and then having the installation go wrong. Fortunately, we have a team of professional installers that offer premium installation services. Since we'll be installing the materials we sell, you can trust that we have an in-depth knowledge of the best ways to handle the process from start to finish. We'll make sure that everything is in perfect order and that your new carpet lasts for years to come. All of our products are backed by some of the best warranties in the industry, including our Ultimate Confidence Guarantee


Contact us to learn more about our carpet flooring options. We proudly serve customers located throughout Ephrata, Denver, Akron, Brickerville, and Adamstown, PA, as well as the surrounding communities.