Decorating with Ceramic Tile Flooring in Ephrata, PA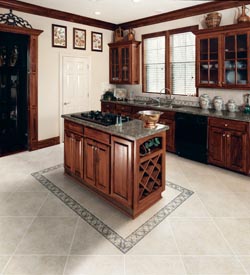 Revitalize any room in your home with the elegance of ceramic tile flooring in Ephrata, PA. This classic flooring option offers a refined beauty that complements every décor. It also resists water and allergens for a floor covering that's practical and healthful. To discover the perfect ceramic tile for your home, come into the showroom at Cloister Flooring America.
Learning about Ceramic Tile
Ceramic is made of clay that has been fired in a kiln at extremely high temperatures. This results in a durable surface that resists fire and water. However, ceramic is a softer tile, making it easier to cut and install.
This tile has the lowest price tag of other tiles, including its sister porcelain, as well as tiles made from natural stone. Ceramic brings with it a cultivated beauty that elevates the overall décor of any space.

This flooring classic has been popular since the time of the Greeks, Romans, and Egyptians, often serving as flooring for palaces and public buildings. It brings that same appeal with it in your house, whether gracing the grand foyer, kitchen, bathroom, or living room.
Using Ceramic Tile Throughout Your House
When many of us think about ceramic tile, the bathroom or kitchen comes to mind as this flooring is exceedingly practical in these rooms with running water. It's true that ceramic outdoes itself in these spaces. You can mix and match tile throughout the bathroom, using ceramic on the floor and as a shower surround. This gives you an attractive room that withstands water.
Ceramic is equally at home in the kitchen. Of course, it's ideal for flooring when liquids spill and food drops for cleanup is a breeze. We recommend coordinating the floor tiles with that of stunning backsplashes behind the sink and stove to protect the walls from splashes.
However, don't limit ceramic to these rooms. It lends its beauty to any room in your house. Use ceramic tiles of the same size, shape, and color for a uniform appeal or mix it up for visual appeal. Ask our sales and design professionals to assist with decorating.



Contact us today to browse our handsome selection of ceramic tile. We proudly serve customers from Ephrata, Denver, Akron, Brickerville, and Adamstown, Pennsylvania, and the surrounding communities.