Timeless & Classic Hardwood Flooring
Hardwood Flooring in Ephrata, PA
Hardwood flooring increases the value of your home and makes your home more beautiful. If your current flooring is worn out, you can give it a new lease on life without spending a fortune thanks to our versatile solid and engineered hardwood flooring selections. Our
Cloister's Flooring America
showroom in Ephrata
, PA, is filled with many types of species, stains, and grains that are great for any style.
When you choose us to help you with your floors, we ask you important questions about your approach to style and your available budget. Our team is ready to provide you with the personalized service you need to complete any remodeling project. With the help of our team and our tremendous buying power, you can save more than you ever thought possible. Our stunning collections can add an organic touch to your home thanks to our comprehensive selection of hardwood types and sizes. Once you choose a floor that showcases your home in its best light, we can offer you a hardwood flooring installation at highly competitive prices. Instead of settling for the second-best and living with the results for years to come, make the right choice for your home by visiting our showroom today.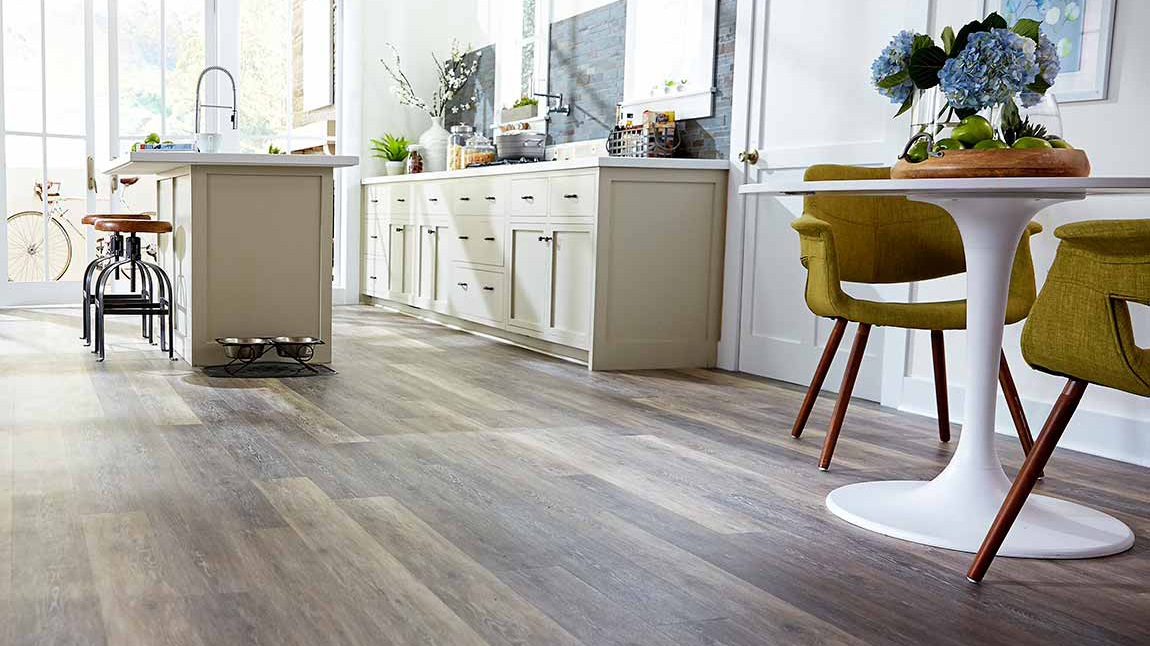 Hardwood Flooring for Every Style
At our flooring store, we cater to your needs. Let us help you find exactly what you need to make your home come alive. The beauty of our wide hardwood selection is its diversity. We offer a variety of wood species such as pine, hickory, cherry, maple, oak, mahogany, ash, and more so that you can find a hardwood flooring type that looks best in your space. Whether you are looking to dress up a formal dining room with the sophistication of cherry wood or you want to add a more natural look to your living room with hand-scraped floors, our hardwood floors will look perfect in any room.

You spend a lot of time in your home, creating memories with your loved ones. When you invest in hardwood flooring from our store, we are here to help you select a hardwood floor that elevates the appeal and value of your home. With brands like Aquadura, Downs, Baroque, and more, we have the right finish to complement your interiors.
Solid vs. Engineered Hardwood Flooring
Professionals on our team are highly knowledgeable about the different types of hardwood and what works best in your living spaces. It's important to know that there are two types of hardwood flooring to consider: solid and engineered hardwood. Learn about the differences between the two:
Solid Hardwood Flooring

- Make a long-term investment with solid wood floors. Solid wood offers an unrivaled aesthetic that adds class and luxury to any home. This type of hardwood is sold as planks that are one genuine piece of hardwood and it offers the most natural appearance. Thicker in construction, solid wood is a sturdy flooring choice that can be given a satin, matte, or gloss finish.

Engineered Hardwood

- Choose engineered hardwood floors for strength and durability. Constructed of multiple layers, engineered hardwood is designed to withstand heavy foot traffic. It is more resistant to moisture, water, and humidity than solid hardwood, which makes it perfect for below-grade installations where dampness is common. As with solid hardwood floors, engineered hardwood is available in a variety of finishes, glosses, and styles.
Regular Hardwood Maintenance & Cleaning
It's essential to give it the attention it needs to maintain its brilliance. Sweep your floor and mop it dry regularly to eliminate dirt and debris. While our engineered hardwood alternatives offer some of the best moisture protection, any liquid spills must be cleaned up immediately to prevent seepage through the layers. Every few months, consider using a polish or specialty cleaner to give your wood floors some extra shine. We are always happy to propose products that are covered by the manufacturer's warranty for your new flooring.
Professional Hardwood Installation
Protect your flooring investment by choosing our complete flooring services from our team of professionals. We offer hardwood flooring installation so you don't have to spend time searching for a qualified contractor. We've got everything you need from prefinished to solid and engineered hardwood. Our hardwood flooring installers are certified, highly trained, and efficient, which means that they deliver excellent results every time. Hardwood floors should be handled and installed by skillful installers with years of experience. Trust that our installers know the proper steps for wood floors that can be passed down to the next generation. Our commitment to quality is backed by an Ultimate Confidence Guarantee. If you find yourself unhappy with your new hardwood floors, give us a call within 30 days of your installation and we will gladly replace your new floors with a similar model at no additional cost to you.


Contact us to learn more about our hardwood flooring solutions. We're proud to serve customers in Ephrata, Lititz, Brickerville, Akron, Adamstown, Denver, Stevens, Manheim, Brownstown, Landsville, Lancaster, Elm, Penryn, Annville, Quentin, New Holland, Leola, and Petersburg, PA.