Hardwood Refinishing in Ephrata, PA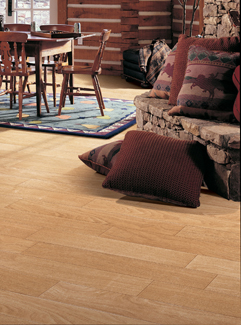 Hardwood flooring is beautiful and durable, but just like any other flooring it starts to show signs of wear and tear over time. It should be fairly obvious if your wood floors are in need of some care. Staining along with waxing will only cover up scratches and other physical damage, but it won't eliminate it. You need help from professionals. Our technicians perform hardwood refinishing that visibly restores your wood floors.
Just because your hardwood floor is old and worn doesn't necessarily mean that you need new flooring. Unless the wear is extremely severe, hardwood floor repair or refinishing should reverse the signs of damage. This approach also requires much less time and expense than new floor replacement, so any inconvenience you experience will be minimal.
Detailed Hardwood Floor Refinishing
The condition of your wood floors determines what we have to do to make them look great again. For instance, if water takes a while to sink into the floor boards, a thorough cleaning and polishing should make them look better. When water is quickly absorbed, this indicates hardwood floor refinishing is necessary. We typically have to start the process by sanding the floor boards to the bare wood to remove physical damage along with residual staining and wax. Using the proper equipment, we do detailed sanding that includes the corners of walls and in doorways.
The next step in refinishing hardwood floors is cleaning up the dust created from the sanding. We then use tack cloth to clean all of the wood flooring so that it is prepared for the finish. To achieve the best results, we apply the finish and sealer immediately after sanding, making sure to cover the entire area evenly.
Buffing, vacuuming, and applying two coats of floor finish are the final steps in our wood floor refinishing process. After our work is completed, your wood flooring looks new again. Call us for services from professionals who know how to properly refinish hardwood floors.
Hardwood Floor Repair Gives Flooring New Life
Refinishing alone may not solve your wood floor problems. Damage ranging from loose planks to scratching is probably best handled with hardwood floor repair. Our technicians are skilled in all types of wood floor repair and we also have all of the necessary equipment and tools to do a flawless job for you.
For split or cracked wood, we nail pieces back together or use wood putty to cover up the damage. Gaps occur because of the natural shrinking and expanding of wood; however, if you think your gaps are larger than normal, we'll tighten them up to make sure that they remain level.
The boards of older hardwood floors can sometimes become detached from the subfloor, which is a condition known as buckling. If you think this may be your floor's issue, call us to inspect it. We will nail the planks back into place to correct the problem if indeed buckling has occurred. If you have loose planks in your hardwood flooring, we will either tie them down or nail them into place to make sure that they are sturdy.
If you don't already have hardwood floors, they add warmth and beauty to any room in your house. Nothing compares to the uniqueness, beauty, and ease of cleaning of hardwood flooring. Hardwood floors make any room seem welcome and attractive.
What can we offer if you want hardwood flooring? Our store carries a full selection of affordable hardwood floors in any design, style, or color you want. With many hundreds of locally owned stores in our network, we use our significant buying power to your advantage. See for yourself what's available when you visit our showroom to start the process of creating a whole new look in your home.
Hardwood Flooring: Perfect for Any Room in the House
Hardwood flooring's designs and qualities never go out of style and, better yet, never need updating, no matter what other changes you may make in your home. With an abundance of character and an elegance that is unmatched in flooring, wood floors provide you with the perfect foundation for any room.
Our showroom provides you with the opportunity to examine our wood flooring selection up close. Popular products include oak, Brazilian cherry, solid hardwood, and engineered hardwood floors. You can find any species of wood you want in styles that include:
Strip Flooring: Adds a traditional look while making the space seem larger. Strip flooring comes in strips that range from 1" to 2.5" and in thicknesses of 5/16" to 3/4".
Plank Flooring: With wider strips-from 3" to 8"-plank flooring is noted for its earthy appeal and complements a room décor with antiques or historical items.
Hand Scraped Flooring: Trending today, hand scraped flooring offers an appealingly timeless feeling enhanced by the advanced urethane finishes popular today.
Wire Brushed Floors: As charming a style as any but with a quieter application of the look of distress and enhanced appeal with innovations in urethane finishes.
The Flawless Look of Hardwood Flooring Installation
Hardwood floors from our company invite warmth and elegance with a natural feel into any room of your house, including the basement. Nothing compares to the ease of cleaning and the physical beauty of hardwood.
In addition to our all-star team of sales professionals, we also offer hardwood flooring installation from experienced and trained professional installers. For your convenience, our flooring installation technicians can deliver and install any selection of flooring to complement any room in your home.
Our company's Assurance Guarantee means if you are not satisfied with your new 4 Star or 5 Star rated floor, we replace it with another of equal or lesser value. We confirm that promise to you when you choose your quality product and enjoy the excellent service we provide. You simply can't go wrong when you opt to shop for flooring with us! Find the hardwood flooring of your dreams along with a guaranteed satisfaction that can't be beat.

Contact us now at for your free in-home estimate. We are proud to serve the homeowners of Ephrata, Denver, Akron, Brickerville, and Adamstown, Pennsylvania.