Laminate Flooring in Ephrata, PA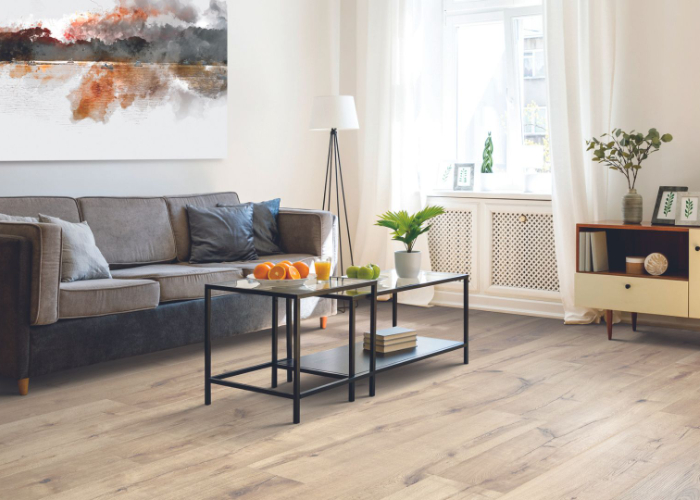 Elevate your living space with the allure of brand-new laminate flooring. At Cloister's Flooring America in Ephrata, PA, we're dedicated to making your journey to find the perfect flooring delightful! Our selection of laminate flooring stands out with its remarkable affordability, allowing you to enhance your home's design without overspending or compromising on quality.
Discover the sweet spot between durability and aesthetics with our top-tier laminate wood and tile floors collection. We're committed to seamlessly blending style and strength, ensuring that your floors remain visually appealing and resilient over time.
With our team of approachable and knowledgeable flooring experts, we take the time to understand your design preferences and practical requirements. Together, we'll navigate our diverse range of laminate options to uncover the best fit for your space. From the initial choice to the final installation, we'll be there every step of the way, ensuring a smooth and satisfying experience.
Embark on this exciting journey at our Ephrata showroom, where a wide array of laminate flooring awaits your exploration. Join us today and witness how your home can be transformed with our exceptional laminate offerings!
Laminate Flooring: Definition and Distinctions
Laminate flooring is a versatile and cost-effective flooring option composed of multiple layers. Unlike traditional hardwood, it's crafted from compressed wood fibers and resin, topped with a high-resolution photographic layer that replicates the appearance of wood, stone, or tile. This layer is then sealed with a protective wear layer for added durability.
Its exceptional ability to mimic natural materials without their associated drawbacks sets laminate apart from other flooring choices. Unlike hardwood, laminate is more resistant to scratches, moisture, and fading. Additionally, its simple click-and-lock installation process allows for easy installation.
In contrast to ceramic or stone tile, laminate offers a warmer and more comfortable underfoot feel. It's also typically more budget-friendly than hardwood and natural stone, making it an attractive option for homeowners seeking beauty and durability without sacrificing affordability. Laminate's innovative manufacturing techniques ensure an array of styles, colors, and textures, making it a versatile choice for various interior design schemes.
Laminate Types
Crafted from robust plastic materials, laminate flooring artfully imitates the elegance of genuine hardwood, stone, and even marble. Each laminate plank harmonizes durability and aesthetics, catering to busy households where spills, stains, and scratches are no cause for concern. Underfoot, a sturdy core lays the foundation for resilience and comfort. A protective wear layer guards the printed photo surface, ensuring lasting visual allure and durability. These attributes position laminate as the ultimate choice for households with active children and pets. Explore the diverse laminate flooring options showcased at our Ephrata, PA, showroom:
Laminate Wood Flooring: Capturing the classic allure of hardwood, our laminate wood flooring boasts durability and minimal upkeep. It emulates a range of hardwood species – from mahogany to oak, pine, and more – providing the same charm as traditional hardwood but with enhanced endurance.
Laminate Tile Flooring: Infuse opulence into your living space with the sophistication of stone and tile. Our laminate tile flooring replicates the coveted look of real stone at a fraction of the cost. Experience the elegance of quarried stone, porcelain, ceramic, glass, and more, all within our stunning laminate collections. Achieve the high-end aesthetic of stone or tile without the accompanying high-end price tag.
Elevate Your Home with Laminate Flooring
When it comes to seeking cost-effective, low-maintenance flooring solutions, our seasoned flooring experts are your go-to destination for top-notch laminate floors. Whether your style leans toward the richness of laminate wood flooring or the elegance of laminate tile flooring, our showroom offers an extensive selection to suit your preferences, all at competitive prices. Renowned laminate brands such as Floorcraft, Mannington, Mohawk, and Shaw adorn our collection. Uncover the myriad advantages of embracing laminate for your living space:
Affordability: Embrace the charm of laminate without straining your budget. Compared to traditional hardwood and tile, its cost-effectiveness makes it a prudent choice for economically conscious homeowners.
Aesthetic Brilliance: Experience the marvel of today's laminate designs, crafted to mimic hardwood and tile with astounding accuracy. The line between laminate and genuine counterparts blurs, resulting in stunning visuals that are often indistinguishable from the real thing.
Robust Build and Easy Maintenance: Laminate flooring is synonymous with durability. Its robust construction can withstand the rigors of daily life while being incredibly easy to maintain. This means more time enjoying your floors and less time fretting over their upkeep.
Water-Resistance: Certain laminate options feature water-resistant properties, rendering them ideal for areas prone to high foot traffic and moisture, such as kitchens and bathrooms. This added resilience ensures that your floors remain impressive, even in challenging environments.
Leverage the expertise of Cloister's Flooring America in Ephrata, PA, and discover how laminate flooring effortlessly marries functionality with elegance, all while accommodating your budgetary needs. Visit our showroom today and experience the transformative potential of laminate flooring firsthand.
Professional Laminate Flooring Installation
Our flooring specialists understand your need as a homeowner to make a lasting investment. That's why we consider it our obligation to give your new floors proper time and attention for a quality installation. Trust our flooring experts with your project; we'll ensure you receive a seamless installation that lasts beautifully for years. We have years of expertise and the tools and skills required for a quick and precise laminate flooring installation. Our Ultimate Confidence Guarantee lets you rest assured, knowing that if you are unhappy with your new floors, you can give us a call within 30 days of your installation. We will replace your flooring with a similar product at no additional cost.
Contact us to learn more about our laminate flooring selection and installation services. We proudly serve Denver, Akron, Brickerville, Adamstown, Ephrata, PA, and the surrounding communities.