Laminate Flooring in Ephrata, PA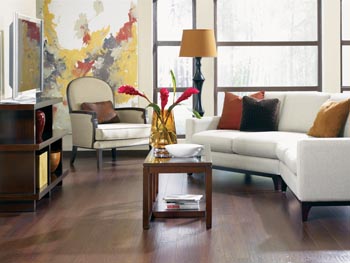 Update the look of your home with a brand-new surface underfoot. For a versatile material that balances durability with exceptional aesthetics, choose laminate flooring in Ephrata, PA. In addition to its customizable look, its remarkably low pricing allows you to expand your interior design ideas without breaking your budget or sacrificing quality.
Affordable Laminate Floors
Upgrade the ambiance of any room in your home with affordable laminate flooring options. We proudly offer a wide selection of products that are sure to make any space stand out. With a wide variety of hues and patterns, you are sure to find look-alike flooring that perfectly meets your aesthetic and performance needs. Our selection is updated to reflect the most current industry trends at every season. As a result, when you look to our team for a beautiful flooring solution, you are sure to find a suitable choice any time of the year at a cost-effective price.
Many homeowners long for the classic appeal of hardwood and natural beauty of stone throughout their space. While these materials deliver beauty and elegance, they can also be quite costly, especially if you are planning to redo a significant amount of floor space. When you need a budget-friendly floor material that's easy to care for, turn to our specialists for laminate floors. You don't have to settle for the same old style in your home. Instead, visit our expansive showroom and explore all of our stunning laminate flooring options. Whether your design visions call for laminate wood flooring or laminate tile flooring, you are sure to receive a classic look at a competitive rate.
Multi-Layered Construction Offers Appeal and Durability
Create the style you've always wanted in any room with our selection of stylish and durable laminate flooring. Whether you prefer the natural look of stone or the eye-catching appeal of hardwood, you'll find a comprehensive collection of everything that you need to transform your home. Our products are designed to upgrade your space without causing you to go over budget.
Not only are our options visually appealing, but there are also highly functional. Along with its realistic appearance, its unique manufacturing process bonds multiple layers of high-density fiberboard together. This makes laminate floors a great choice for active households that experience a substantial amount of foot traffic.
The top-most layer protects your selection from scratches and fading.
Its second layer, the image layer, is a high-resolution image of the material you want to emulate.
The third layer, the core layer, consists of high-density fiberboard, while the backing layer protects the piece from moisture and offers support to prevent it from warping.
Due to this strong multi-layered construction, you don't have to worry about how your selection will fare in moisture-prone areas.
Laminate Wood Flooring
When you purchase new flooring for your home, it's in your best interest to make a lasting investment. Laminate wood flooring offers the timeless appearance of real hardwood, but its treated, pressed wood composition also makes it exceptionally durable. It offers impressive resistance against scratching, fading, moisture, and traditional wear and tear. With all of the options available on the market, it can be difficult to make the right choice for your home. We're here to help you make your selection easier. Whether you prefer a modern or traditional look in your rooms, we carry the perfect woodgrains and styles to fit any taste. At our showroom, you'll find laminate flooring in high and medium gloss styles. Take your renovation to the next level with your choice of a smooth or embossed surface.
Laminate Tile Flooring
Tile brings a classic look to any setting. Bring the elegance of ceramic tile to your home or office with stunning laminate tile flooring. As resilient as it is attractive, laminate is an ideal flooring material for any room in your home. With a design layer that can be fit any high-resolution image, your design options are nearly limitless. Replicate the beauty of ceramic tile with eye-capturing realism that offers the perfect combination of aesthetics and practicality. In addition to its remarkable appearance, our laminate tile makes for a quick and easy installation. Simply share your design aspiration with our professionals and we'll help you make a selection that brings your design visions to life at a price you'll love.
Professional Laminate Flooring Installation
Don't sacrifice quality just to save on your new installation. Our specialists understand your need as a homeowner to make a sound investment. Keeping this in mind, we consider it our obligation to give your new selection the time and attention it deserves to leave you with a quality installation. Trust our flooring experts with your project and we'll make sure you receive a seamless installation that lasts beautifully throughout the years.
Contact our company to learn more about our collection of laminate flooring. We proudly feature a range of laminate flooring options for purchase throughout Denver, Akron, Brickerville, Adamstown, and Ephrata, Pennsylvania.