Durable & Strong Luxury Vinyl Flooring
Luxury Vinyl Flooring in Ephrata, PA
Replace the worn and faded floors in your home with an innovative flooring product from Cloister's Flooring America. Our team of flooring experts is ready to help you choose from our wide selection of luxury vinyl floors. The luxury vinyl that we carry is made with a strong wear layer and advanced digital imaging that gives it a genuine look that also improves comfort and durability.
When you visit our showroom in Ephrata, PA, you'll be able to explore our luxury vinyl collection. Whether you are looking for a luxury vinyl flooring that has the earthy and warm ambiance of solid wood floors or one with the polished look of porcelain tile, we are sure to have the right type of flooring for you! As the area's leading flooring provider, we only carry the highest quality flooring products from the best brands, including:
Downs H2O

Downs Life H2O

Galvanite

Spotlight Values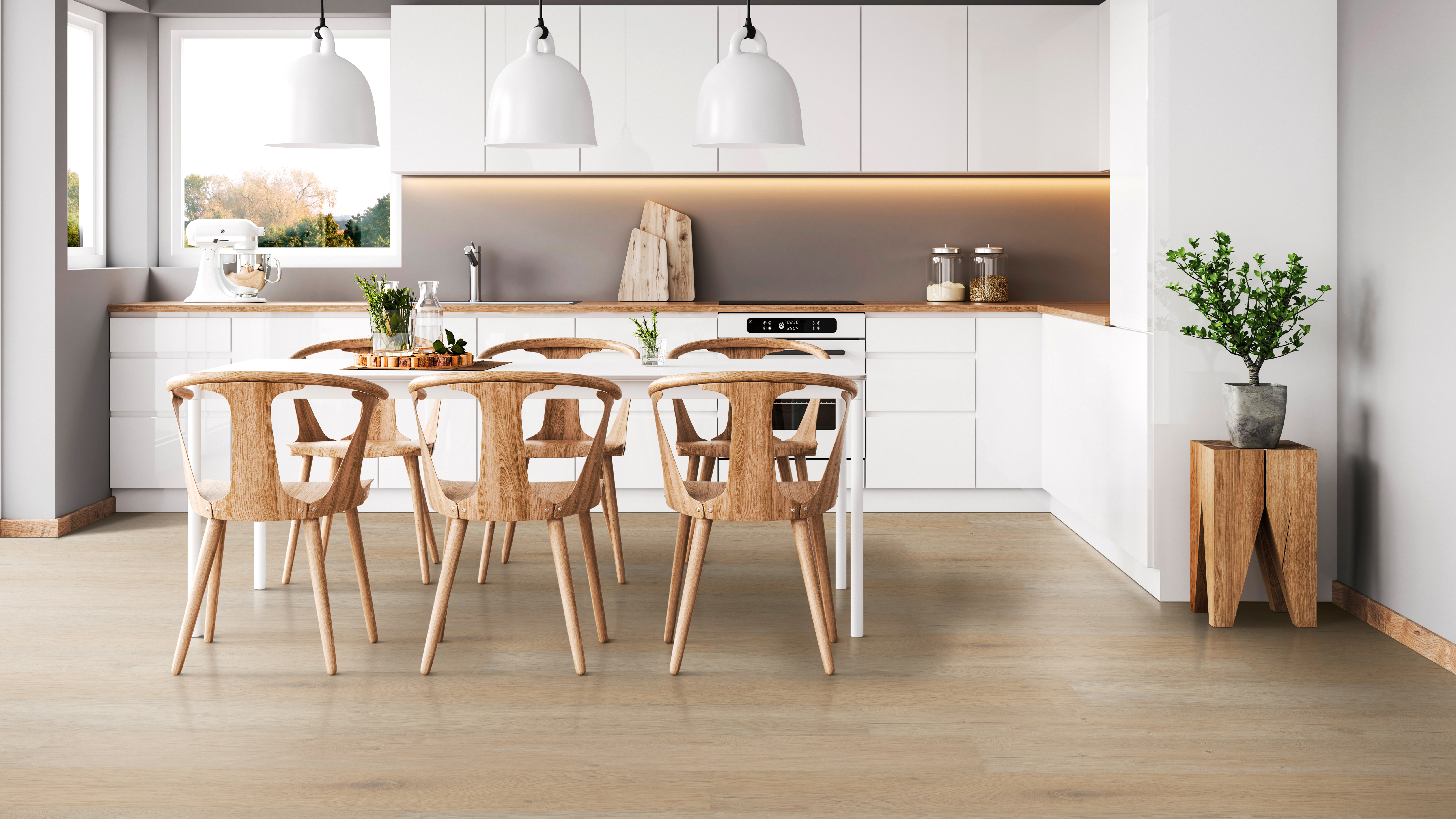 Luxury Vinyl's Many Benefits
Not only are all of our luxury vinyl floors 100% waterproof, but they are also easily maintained, making them the perfect flooring choice for an active household with children or pets. Luxury vinyl is very durable and has a thick wear layer that can withstand even the toughest scratches or stains.
We know that keeping your floors clean shouldn't be a difficult task, and that is why our luxury vinyl is made to withstand the test of time. With vinyl, cleaning your floors has never been easier. Regular vacuuming and sweeping your luxury vinyl floors will help them keep their brand new appearance for years. Just be sure to consult your floor's warranty before using any harsh cleaning agents, as some have chemicals that can affect your vinyl's surface.
Types of Luxury Vinyl Flooring
Vinyl flooring is a growing home design trend and you can find luxury vinyl floors that will match the elegance of hardwood or tile at a fraction of the cost. Luxury vinyl is created in sets of durable planks or tiles, unlike sheet vinyl, which is made into thin sheets that are adhesively placed over an existing floor. Luxury vinyl tile (LVT) is designed to look like a traditional tile, while luxury vinyl plank (LVP) replicates hardwood flooring. Both choices are resistant to scratches, chips, stains, warping, heat, and water damage. Learn more about LVT and LVP:
Luxury Vinyl Tile
Luxury vinyl tile adds charm and elegance to any room. When it comes to new floors, LVT offers numerous options for both residential and commercial property owners. Replicate the radiant look of ceramic or porcelain with this comfy alternative, which is ideal for bathrooms, kitchens, and other high-moisture areas. Our LVT is produced with an uncanny tile appearance, with depth and textures to convince even the most observant guests. Easier to install than true tile, grouting is not required for LVT. While many people choose this choice for a porcelain, ceramic, or marble look, wood-look LVT is also available.
Luxury Vinyl Plank
Luxury vinyl plank is the ideal compromise for those that enjoy a hardwood floor but desire more comfort and longevity. LVP has a softer feeling underfoot and can resist spills, heat, and foot traffic that can cause natural wood floors to warp. The top layer of LVP is formed utilizing advanced photographic technology, resulting in a beautiful decorative layer that draws attention with its authentic-looking grain patterns. Our LVP inventory has everything from mahogany's rich crimson hues to the delicate tones of birch and oak.
Efficient Luxury Vinyl Installation
Extend the lifespan of your flooring with the help of our luxury vinyl flooring installation services. Rely on our vinyl floor installation services to get your next home improvement project completed on time. Our team has the right tools and years of experience in installing flooring in both residential and commercial properties. We always ensure that your new flooring is installed properly so that it will last for years and years. Our approach to installation is centered on your complete satisfaction, with craftsmanship backed by our Ultimate Confidence Guarantee. This guarantee is our promise to you that if you are unhappy with your installation or flooring for any reason, give us a call within 30 days of your installation and we will replace it at no additional cost to you.


Contact us today to learn more about our luxury vinyl flooring and installation services. We proudly serve customers in Ephrata, Denver, Akron, Brickerville, Adamstown, PA, and the surrounding communities.